Sara Pearson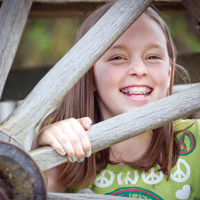 Elementary School Student
It's really beautiful here, and I really like it.
Sara Pearson is a student at Plainfield Elementary School and also a first-time visitor at Cache Creek Nature Preserve.
Why does this place seem important to  society?
It's  important because it's really nice for the birds, because some wilderness gets destroyed and turned into different things, like hotels and other stuff. It's nice that there's a place where the birds can come at winter, and that is very secure and won't be torn down.
You mentioned that you want to have a place where you can go to explore nature that's not private property.
I was in birding in 5th grade, and [our class] went on field trips a lot to different places with binoculars to look at birds and all that. We only went to a couple of places that were not private property. The birding teacher knew a bunch of people who had places where there were birds. We got to go to a bunch of those places but if she hadn't had the connections, we probably wouldn't have gone there. It is really nice getting to look at the birds and the different species [here] and to figure out which one is which and where they originated from and all that.
Do you think it's important to try to preserve places like this?
I think it's really important to preserve places like this because there's not a lot of them around. If there are, they are on the verge of being taken down and turned into other things. It's really beautiful out here, and I really like it. There's lots of birds you can look at, and there's just a lot of stuff that you can look at: nature, trees, birds, water, and plants.
Do you think you will come back?
Yeah, I probably will with my parents.
To download the audio, right click on the audio link above and scroll
to "Save link as . . ." and choose the directory where you want to
store the mp3. In Windows, you may have to use Control + S to select the link.