Guy Calabro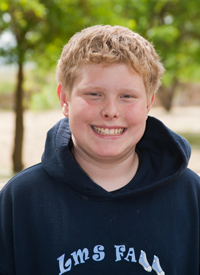 Elementary School Student
When I heard we were going to the Preserve, I always used to get excited.
Guy Calabro is a student at Plainfield Elementary School. He has been coming to the Cache Creek Nature Preserve for the past five years.
Would you like to read your story to us?
The first time I went to Cache Creek was awesome. That was almost five years ago. We went and made a creek out of sand. My favorite part was going in the creek and catching creatures. We saw tons of cool animals and made funny sounds when we saw them. My friend Gary once caught a baby turtle and a huge lizard that did push-ups. I always get excited when I hear we are going. I even went on my birthday once. Cache Creek is a great and exciting place. Thank you for all the wonderful years.
To download the audio, right click on the audio link above and scroll to "Save link as . . ." and choose the directory where you want to store the mp3. In Windows, you may have to use Control + S to select the link.