Andrew Fulks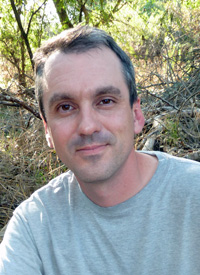 Director, UC Davis Putah Creek Riparian Reserve
Everyone has a connection with nature; it's inherent.
Andrew Fulks is the Director of the UC Davis Putah Creek Riparian Reserve, a wildlife area that is home to many species of birds, snakes, fish, and other animals. He serves on the advisory committee that advises the Yolo County Board of Supervisors on issues related to parks, recreation, and wildlife in the County.
Introduce yourself and give your biggest connection to this place.
My name is Andrew Fulks and I was there the very first day that the very first group of people sat down to discuss the planning for this project. I was doing the sketches of the layout of the nature preserve.
For you, having such a deep history with this place, how do you feel about how it's evolved since those first days?
It's exciting! I mean, any time you see something go from concept to reality it's always very rewarding. I started this years and years ago and since then I've had kids. I have two boys and they had a Cub Scout camp here. To be out here at the nature preserve with my two boys—going on hikes, and looking at wildlife! To think about this place where kids have such great, rich experiences! The reason I've always been doing the sort of work that I do is the enjoyment of the people that come and visit this place; that connection with nature that they get to have that they didn't get to before.
Why do you think the preserve is an important place here in Yolo County?
There's really not a lot of opportunity for people to go and experience nature nearby, and everyone has a connection with nature; it's inherent. We're part of the ecosystem too, we all depend on it. That connection with recreation and understanding nature, and having a place where you can do that, is really important. The Preserve's got wetlands, riparian corridors, views of the adjacent agricultural lands, industry—I mean, we've got active mine pits basically all around us! But that also shows us that while we're using resources, we can also restore them into good wildlife habitat and places people enjoy as well. These wetlands that are here used to be gravel pits. I can't actually think of any other place in Yolo County that does quite as much as the Cache Creek Preserve does in telling the story of Yolo County.
Can you look around and say where we are and what you see around you?
We're within a slightly elevated floodplain within the riparian corridor of Cache Creek. We're across from the Storz Mining Pit on the South bank which is actively being mined now—that will be a reclaimed wetland and lake when they're done with it. And then of course we have our trail that's moving through the riparian corridor; this is another thing that's really unique about the preserve. A lot of the trails in the county are congregated up in the mountains; there are very few areas where you can walk within the flood-zone. There's a definite difference when you get down into the shade. The temperature drops, you hear the small birds in the brush twittering, and then usually after the willows lose their leaves and start putting out their catkins, you'll hear the buzz of bees. In fact, sometimes the whole corridor is just a-buzz. It's crazy!
It's a really flashy creek.
It is! I've been out here next to the nature preserve looking upstream during flood flows and it's just absolutely stunning. It looks like an ocean. You see it now and it's this little tame creek and you wouldn't think that in the wintertime it's going to be quite that crazy.
I wonder if there is any other moment that you've had that really illustrates for you why this place is special?
The moment that has actually inspired me to some degree was when the Board of Supervisors passed the Cache Creek Resource Management Plan for reclaiming the pits along the creek. There was a lot of political pressure from all sides on the board, from their constituents and the industry, really pushing for something that was different from what we got. I felt like that took a tremendous amount of courage and it made me really appreciate the representative government that stood up for what was good for the county long-term. More than 20, 30 years of excavation, but what is this going to look like for future generations? When that vote was held it was the culmination of years of work. It was just very impressive to see that the vision held up though all of that! They have a timeframe that's beyond the next election. You need leaders like that.
To download the audio, right click on the audio link above and scroll
to "Save link as . . ." and choose the directory where you want to
store the mp3. In Windows, you may have to use Control + S to select the link.